India consumer prices rise as fuel and power costs jump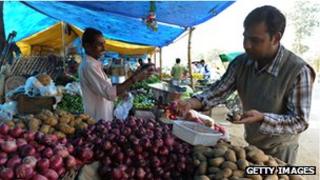 Consumer prices in India rose more than expected in February, driven by a jump in fuel and power costs.
The wholesale price index (WPI), a key measure of consumer price inflation in the country, rose by 6.95% from a year earlier.
Fuel prices have been rising globally amid fears over supply disruptions due to tensions in the Middle East.
Analysts said fears of oil prices rising further may prompt the central bank to keep interest rates on hold.
"This figure is still a repressed number, because the complete pass-through of global oil prices has not happened," said Rupa Rege Nitsure of Bank of Baroda.
"If you take just the direct impact of global oil prices at current levels, then the headline inflation number could at least be 90-100 basis points higher."
Growth concerns
The Reserve Bank of India (RBI) raised its key interest rate 13 times since March 2010 in a bid to control rising consumer prices.
While that has managed to bring down price growth, there have been concerns that the high cost of borrowing is hurting the economy.
Data released last month showed that India's economy grew by 6.1% between October and December last year, its weakest growth rate in nearly three years.
That had raised speculation that the RBI may lower the cost of borrowing at its next meeting on Thursday, in a bid to boost growth.
However, the meeting comes just a day before the government is scheduled to present its budget for the next financial year.
Analysts said the central bank might leave its policy unchanged and wait to see if the government announces any fresh economic measures.
"The broad balance is in favour of a rate cut, but I would think the Reserve Bank of India would wait until it gets a firm fix on the contours of the budget," said Abheek Barua of HDFC Bank.