Letting agency complaints up 26% in 2011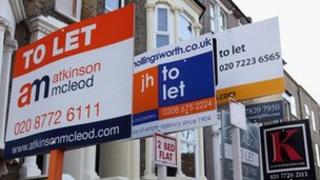 The lettings industry urgently needs to be reformed and regulated, says the Property Ombudsman.
Last year his office received 26% more enquiries about lettings agents.
However, letting agents are not obliged to register with a redress scheme, such as that of the Property Ombudsman, to resolve disputes.
The Ombudsman said they should be regulated in the same way as estate agents to protect tenants and landlords.
Last year, there were 7,641 enquiries about letting agents to the Ombudsman, 26% more than in 2010.
Of those, only 756 were taken on by the Ombudsman as a formal case, although that was a 42% increase.
However a large minority of the initial complaints - 25% - were about agents not registered with the Ombudsman, which meant his staff could do nothing about them.
"I am concerned that, for those consumers, they may have little alternative but to undertake potentially costly legal action to pursue their complaint, a daunting prospect in the current financial climate," said the Ombudsman, Christopher Hamer.
He pointed out that rogue lettings agents were a threat to both tenants and landlords.
"Knowledgeable landlords already check if an agent has a separate account for client money and has signed up to a redress scheme, before allowing them to market their property," Mr Hamer said.
"However, landlords who are new to lettings, will no doubt be attracted by lower fees and may not enquire what protection the agent can provide both them and their tenants should problems later occur," he added.
Ian Potter, of the Association of Residential Lettings Agents, said he was disappointed by the rise in lettings complaints and backed the Ombudsman's call.
"It was interesting to note that only 10% of those [lettings complaints] merited adjudication by the Ombudsman, and it should also be noted that there were almost 900 new lettings members despite some consolidation in the industry," he said.
"That said, it comes as very little surprise given there is no national regulation in place to stop rogue agents setting up shop and taking advantage of what is a fragile market."
Mr Hamer said that since estate agents became obliged to register with a redress scheme in 2007, there had been a steady improvement in standards.
However, his office still received a 10% rise in complaints about sales agents last year, to 4,186.