South Korea embraces free trade as US deal kicks in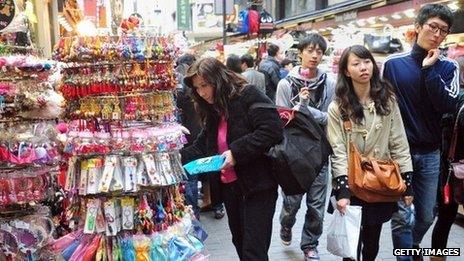 Seoul's famous Myeongdong shopping area is always packed - shoppers from all over Asia cramming its narrow pedestrianised streets; the low-slung jumble of shop-signs and advertising barely clearing their heads.
There are already a good number of US brands on sale here, and on Thursday, the number of products is expected to increase while prices are meant to go down.
South Korea's free trade agreement (FTA) with the US has been a long time coming.
First signed by both countries in 2007, it was renegotiated in 2010, and only ratified by the South Korean parliament at the end of last year.
Under the deal, tariffs on 80% products traded between the two countries will disappear immediately, with 95% of trade being covered within five years.
Breathless reports in newspapers on both sides of the Pacific have salivated or sniffed at the opening of US law offices in Seoul, or the shipping of extra Korean cars.
Iconic Harley-Davidson motorcycles have already had their prices clipped at their Seoul showroom this week in anticipation of their 8% tariff being cut to zero.
But on the streets of Myeongdong, the afternoon shoppers were less convinced about the benefits of the deal.
"I'm worried that the huge food American companies will expand their presence here and that Korean companies will lose their competitiveness and position, and that ultimately we will become subject to greater American influence," said one man.
"A lot of people are seeing their income stay the same while prices rise," added another woman, "so in that respect I think the lowering of prices on US products will really help."
"I'm quite sceptical about the effect of the FTA," said another shopper. "I think it'll only benefit the big companies. Based on the previous FTAs I've seen with Chile and the EU, I wonder whether the lowering of taxes will actually help prices go down."
One local paper carried a survey of this month which suggested that while some retailers said they were planning on importing more US products after the FTA came into effect, only a quarter were going to pass on the full tariff reductions to their customers.
The rest said they'd simply pocket the difference.
So who will really benefit from the new, freer trade? That's been a bone of contention here for years.
Governments of both countries say it'll boost their economies and create jobs.
Analysts here in Seoul have said the FTA could create more than 300,000 new jobs over the next ten years, as well as a 5.7% spike in GDP.
South Korea's Trade Minister Bark Tae-ho said he hoped it would also offset a relative decline in the two countries' trade relations in recent years.
Last year, he said, the US - historically South Korea's most important trading partner - was ranked only fourth following China, Japan and the EU, and Korean products were also slipping in terms of their share in the US market.
"For Korea, this trend is alarming," he said.
"First, Korean products are losing out in the largest, most advanced market in the world. [It] means we are losing our competitive edge. And this will lead to further loss of competitiveness in the future."
Particularly given the eurozone crisis, a boost to US-South Korean trade would be very timely, he added.
But critics say it's likely to be mainly big auto and electronic exporters that reap the benefits of preferential access to the US market, while smaller businesses and weaker sectors like farming are left to pay the price of greater competition from US imports.
Tariffs on some sensitive agricultural and meat products, as well as cars, are being phased out over a number of years, to give domestic industries time to adjust.
But despite that, and government pledges of support, farmers and small business owners in particular have remained fiercely opposed.
The past few years have seen angry protests in the capital. And opposition parties say they'll try to block the deal if they win elections here this year.
But that hasn't been enough to stall South Korea's free trade juggernaut.
This bullish, export-led economy has put free trade deals at the heart of its strategy: aiming to sign bilateral FTAs with virtually every trading partner it has.
Having been the first Asian country to sign an FTA with the European Union last year, and having launched this latest deal with the US, South Korea is beginning to discuss the possibility of starting similar FTA negotiations with the fast-rising economy on its doorstep, China.
Such a deal, it says, would complete its key strategy of becoming a "global FTA hub".
There is also the idea of a trilateral deal between South Korea, China and Japan.
The US agreement may have been a long battle, but for many political and business leaders here, it's just the start.