Hungarian PM Viktor Orban denounces EU's 'colonialism'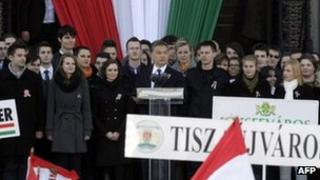 Hungarian Prime Minister Viktor Orban has launched a scathing attack on the European Union, accusing it of treating the country as a colony.
Addressing a huge rally in Budapest, the conservative premier said the nation "will not live according to the commands of foreign powers".
His comments came a day after the EU suspended funding for Hungary over its high budget deficit.
Some EU leaders have accused Mr Orban's government of authoritarian practices.
They voiced concern over legislation passed by Mr Orban's government, which is seen by some in the EU as limiting the freedom of free press and the independence of the judiciary and the central bank.
Budapest rejects the allegations.
'Double standards'
"We will not be a colony," Mr Orban said to loud cheers of his supporters, who on Thursday marked the anniversary of Hungary's 1848 revolution against Austrian Habsburg rule.
"As a European nation, we demand equal treatment. We will not be second-class European citizens.
"Our rightful demand is to have the same standards apply to us, which apply to other (EU) countries," Mr Orban said.
Hungary's media said at least 100,000 people attended the rally outside the parliament building.
On Wednesday, the EU suspended 495m euros ($655m; £417m) of funds due next year to Hungary, because of the country's budget deficit.
This was the first case of Brussels action over the budget deficit of any of its 27 members.
But the EU said it would allow three months for Hungary to pass more budget cuts.
Hungary is forecast to run a deficit of 3% this year and 3.6% next year. Its total debt is 82% of its output.
The EU's Excessive Deficit Procedure rules say EU member states should keep their budget deficits below 3% of national output (GDP) and government debts below, or sufficiently declining towards, 60% of GDP.
The suspension of funds to Hungary came as the EU allowed Spain to run a higher deficit, leading Austria to accuse the EU of applying "double standards".
Spain will have to cut its deficit to 5.3% of GDP this year - higher than the 4.4% that Spain was originally told to target.
But the EU's monetary affairs commissioner Olli Rehn said that "different deadlines" meant direct comparisons of the Spanish and Hungarian cases were not valid, as Budapest had already been given an extension.
Hungary had been in talks with the International Monetary Fund and was given a 20bn-euro standby loan by the IMF in 2008 to prevent it having to default on its debts.