Civil servants in PCS union reject pension plan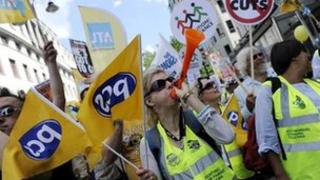 Civil servants have signalled a fresh round of industrial action after rejecting the government's latest plans for public sector pensions.
Some 72% of the members of the PCS union, the biggest civil service trade union, who voted in the UK ballot agreed to further industrial action.
Just over 90% rejected the government's latest proposals. The turnout was 33%.
Last week, the government published its latest set of plans at the end of talks with unions.
It said the talks had been constructive and described the proposals as a "fair deal for public sector workers and an affordable deal for the taxpayer".
'Committed'
The PCS said the outcome of the vote should be enough to bring the government back to the negotiating table.
"Ministers must now seriously engage in negotiations on the core issues if they want a settlement," said PCS general secretary Mark Serwotka.
"The vote shows we remain committed to resisting this government's attacks on pensions, jobs and pay, and to working with other unions to build further co-ordinated industrial action."
The union's national executive committee will meet on Monday to decide what to do next.
The government wants to save billions of pounds from its pension bill.
It is planning to make substantial increases in employee contributions in three stages between April this year and April 2015.
Then it plans to bring in new, and less generous, career average pension schemes for most public sector employees, with the pension age rising in line with the increasing state pension age, eventually to 68.