Pension switch challenge is lost by unions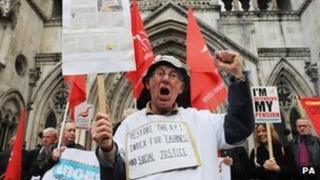 Trade unions have lost an appeal against a change in the way public sector pensions are protected against inflation.
The High Court ruled in December that the government's switch in calculations was lawful.
Trade unions had complained about how the Consumer Prices Index (CPI) was replacing the faster-rising Retail Prices Index (RPI) to uprate pensions.
Now they have lost the latest stage of their challenge at the Court of Appeal.
This confirms a reduction in the value of future annual pension increases for millions of public sector pensioners.
The policy saves the government billions of pounds in the coming years and is a major area of disagreement within the public sector pensions dispute.
Calculations
CPI and RPI are measures of inflation - or the cost of living - based on the prices of baskets of goods and services. The RPI basket includes mortgage interest payments and some other housing costs, and is generally higher owing to the formula used to calculate it.
The use of CPI for inflation-proofing pensions was first applied in April last year.
It saw pensioners in schemes covering civil servants, teachers, NHS employees, local government and others, receiving an increase of 3.1% instead of 4.6%.
At the original court challenge in December, the trade unions' lawyers had argued that, in making the change, the government had acted beyond its powers granted by the Social Security Administration Act.
They have also argued that the government was driven by the savings that such a switch would bring to the public purse.
Judges found unanimously in favour of the government in three of four counts, and by a majority of 2-1 on a fourth. The Court of Appeal has now upheld this decision unanimously, ruling that the government would have made the switch, even if the UK's economic situation had been discounted.
The Appeal Court judges refused the unions permission to appeal to the Supreme Court, although the unions can ask the Supreme Court directly for permission to do so.
Reaction
A legal representative of the unions said they would now be considering their next steps.
A government spokesman said: "The government welcomes the Court of Appeal's judgement upholding its decision to use the Consumer Prices Index for inflation-proofing certain pensions and benefits."
Two groups, mainly consisting of unions, launched the legal action. The Fire Brigades Union, NASUWT, Prison Officers Association, Public and Commercial Services union, Unison and Unite make up one group, while the other consists of Prospect, the FDA, GMB, Police Federation, National Association of Retired Police Officers and the Civil Service Pensioners' Alliance.
The judges agreed to allow the National Union of Teachers, Association of Principal Fire Officers and National Federation of Occupational Pensioners to join the challenge.