Jaguar Land Rover agrees joint venture with Chery in China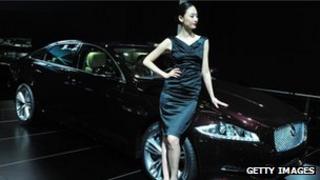 Jaguar Land Rover (JLR) and Chery Automobile have agreed a joint venture that should pave the way for production of Jaguar and Land Rover cars in China.
A new, jointly owned company will be formed, with a view to also establish a research and development facility.
The company will also aim to develop and manufacture new models, as well as set up engine manufacturing operations and create a sales network in China.
The two firms said they wished to "leverage" their respective strengths.
"Demand for Jaguar and Land Rover vehicles continues to increase significantly in China," JLR's chief executive Ralf Speth and Chery's chief executive Yin Tongyao said in a joint statement.
"We believe that JLR and Chery can jointly realise the potential of these iconic brands in the world's largest car market."
Chery predominantly makes smaller, less luxurious cars than JLR, but has good knowledge of the Chinese market.
JLR is owned by Indian Tata Motors.