China manufacturing activity contracts says HSBC survey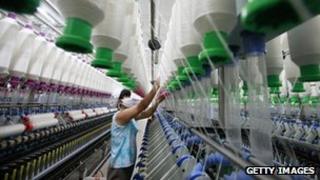 China's manufacturing activity contracted in March, a preliminary HSBC survey showed, raising fears the global slowdown is harming its economy.
The HSBC Purchasing Manager's Index (PMI) fell to 48.1 from 49.6 in February, the fifth monthly fall.
The data comes just days after China said it expected growth of 7.5% in 2012, the lowest target since 2004.
The official PMI data is expected to be released on 1 April.
"Growth momentum could slow down further amid a combination of sluggish export new orders and softening domestic demand. This calls for further easing steps," Qu Hongbin, HSBC's chief economist for China said.
The PMI is a key indicator of manufacturing activity and a reading below 50 shows it is contracting.
Global concerns
China's manufacturing sector has been one of the biggest drivers of its economic growth.
But a large part of the goods made in China are meant for export and two of its biggest markets, the US and the eurozone, have suffered economically since the credit crisis took hold four years ago.
That has hurt demand for Chinese exports recently, raising fears that as sales in its key markets falls, so could growth in China's export-dependent economy.
Economists will be closely watching March data for confirmation of a slowdown.
"China will come under immense pressure if key economic figures for March confirm that it is experiencing a rapid economic slowdown," Zhang Zhiwei, China chief economist for Nomura.
"We expect more easing policies, including cuts in banks' reserve ratio requirements."
Data released earlier this month showed that China posted its largest trade deficit in almost ten years in February.
HSBC's Mr Qu warned that the outlook for the manufacturing sector continued to remain bleak as "there are no improvements in the demand outlook".