Fall in sales of £2m-plus homes, says Land Registry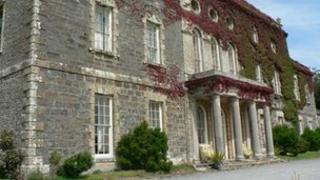 The number of homes sold for more than £2m - now subject to a higher stamp duty rate - fell at the end of last year, new figures show.
There were 103 £2m-plus homes sold in December in England and Wales - an 18% drop from the same month a year earlier, the Land Registry said.
Of these, 80 were sold in London, where prices have been rising the fastest.
The sales came before Chancellor George Osborne introduced a new 7% stamp duty rate in Wednesday's Budget.
There are various rates of stamp duty land tax - paid by the buyer of a property - already in place, depending on the cost of the home.
The chancellor said that those who bought the most expensive homes should contribute more. This will mean the buyer of a home at a cost of more than £2m must pay at least £140,000 in stamp duty.
The Treasury expects the measure to raise £150m in the next financial year, rising to £300m by 2016-17.
First-time buyers
The Land Registry provides the latest accurate data on the sales of homes at certain price bands.
In December, the biggest proportion of homes were sold for between £100,000 and £150,000, with a total of 14,385 sold.
Any first-time buyers who bought homes at this price would have been exempt from stamp duty at the time.
However, from Saturday, all buyers of homes sold for more than £125,000 will have to pay stamp duty because this exemption is coming to an end after two years. Mr Osborne said it had been "ineffective" in increasing first-time buyer numbers.
In the Budget, the chancellor also announced that the level of stamp duty on residential properties over £2m which were bought via a company would increase to 15% with immediate effect.
In addition, overseas companies that already own UK residential property worth more than £2m will be subject to capital gains tax from April 2013.
Overall, the Land Registry said house prices in England and Wales rose by 0.1% in February compared with the previous month.
However, prices were down 0.6% compared with February 2010. The average home cost £161,588.