Canada and Japan to start free trade talks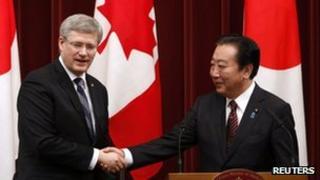 Canada and Japan have announced that they will formally begin talks aimed at establishing a free trade agreement between the two countries.
It comes after Canadian Prime Minister Stephen Harper visited his Japanese counterpart, Yoshihiko Noda, in Tokyo for talks.
However, analysts caution that a deal will be difficult to achieve.
This is because of Japan's continuing desire to shield its agricultural sector from outside competition.
Japan is a big importer of Canada's natural resources, such as coal, wood and copper ore, plus food products including pork and vegetable oil.
Canada primarily imports Japanese cars, and other industrial products.
Canada is also pushing to secure a free trade agreement with Thailand, and Mr Harper earlier met with Thai Prime Minister Yingluck Shinawatra in Bangkok.