China Construction Bank profit up amid slowdown worries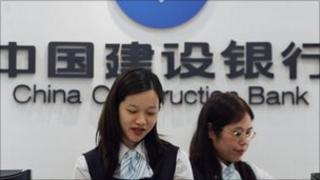 China Construction Bank (CCB) has posted 25% growth in net profit in 2011, but said the slowing global and domestic economies pose challenges.
CCB is the world's second largest bank by market capitalization with Bank of America as one of its shareholders.
CCB's net profit was 169bn renminbi ($26.8bn, £16.9bn) in the year to 31 December, up from 135bn renminbi in the previous year.
Yet banks in China remain concerned about a possible rise in loan defaults.
"Commercial banks face various risks including possible bursting of the real estate bubble, increased risks involved in cross-border investment by enterprises, and operating difficulties of some enterprises," CCB said in a news release.
Slowing growth
Analysts agree that despite CCB's earnings growth is likely to slow down in 2012, as the overall economic situation in China also cools.
May Yan, director at Barclays Capital said, "CCB's net profit growth is likely to be in the low teens compared with 25% in 2011."
Demand for housing loans is expected to fall further after the Chinese government raised borrowing costs, making it more expensive for individuals to buy property, in an attempt to cool the over-heating property market.
However, Ms Yan thinks CCB is likely to fare better than other banks on the earnings front because of its strong deposit base and overall conservative lending practices.