Germany's Ifo business confidence index rises in March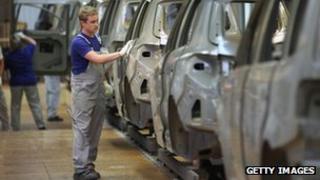 German business confidence rose for the fifth month in a row, according to a closely watched survey.
The Ifo business climate index, which is based on a survey of 7,000 executives, edged higher to 109.8 in March, up from 109.6 in February.
The euro strengthened after the report to $1.3262.
Recent data on the German economy has been mixed. Last week, a report showed that German manufacturing activity contracted in March.
Carsten Brzeski, an economist at ING Bank, said: "Today's Ifo index illustrates once again the sound economic fundamentals.
"Even at a slower pace, the German economy should remain the eurozone growth showcase of this year.
"It might not be Champions League quality any more, but with today's Ifo index, it should probably be enough to win the Europa League."
Another economist noted that the March increase in the Ifo index was very narrow.
"This month's rise was the smallest in the past five months, suggesting that maybe the run of optimism regarding the German economy is coming to an end," said Jennifer McKeown from Capital Economics.
"While exports are faring relatively well, cautious German consumers are still not really spending, despite the resilience of the labour market."
Germany's economy shrank 0.2% in the final three months of last year, but economists expect growth to pick up this year.
Last week, European Central Bank president Mario Draghi said the worst of the eurozone crisis was over.
In an interview with Germany's Bild newspaper, he said the situation in Europe was "stabilising".
Mr Draghi also said that some economic data, including inflation and budget deficits, showed that Europe was doing better than the US.