'Cheap energy bills' plan for vulnerable EDF customers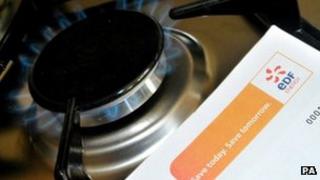 Energy company EDF will give a refund to vulnerable elderly customers who are not on its cheapest tariff.
The company said the policy, to be introduced by the winter, would save those who were eligible an average of £40 a year.
Those on the guarantee element of Pension Credit will be eligible, many of whom receive theWarm Homes Discount.
The company said this would total around 150,000 customers.
If they are not on EDF's cheapest tariff, then the difference between this charge and their own bill will be knocked off a bill before winter.
'Significant difference'
EDF said that the most vulnerable customers would often not participate in the switching process, so might not be on the cheapest deals.
Some do benefit from social tariffs, but applications need to be made to sign up to these deals.
EDF chief executive Vincent de Rivaz told the BBC News website that these people should "automatically" be on the equivalent of the cheapest deal and that the policy would make a "significant difference".
However, watchdog Consumer Focus said that that the data available only allowed EDF to help those of state pension age.
"We want to see the government work with energy suppliers on extending data-matching," said Gillian Cooper, of Consumer Focus.
"This would enable the government and suppliers to identify and target help to vulnerable families and disabled people who are also struggling to meet expensive energy bills."
'Quick action'
Richard Lloyd, chief executive of the consumers' association Which?, said that energy companies had to take "quick and transparent action" to improve the way they dealt with customers.
EDF has been criticised for its customer service record.
In March, Consumer Focus awarded the company a zero rating out of five for its performance in the final three months of 2011. The watchdog said that EDF received 188 complaints per 100,000 customers.
In the same month, EDF agreed to pay a package worth £4.5m - including £3.5m to its most vulnerable customers - after an Ofgem investigation into how it tried to make sales to customers.