Manchester takes key role in basketball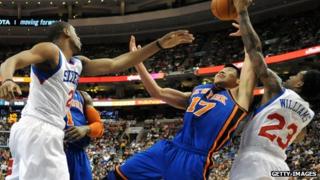 Manchester will have a major role to play in promoting the future of basketball in the UK, according to the head of global marketing partnerships at the NBA.
The regular season NBA basketball game scheduled to be held at the O2 in London this month was cancelled because a player versus team owners labour dispute has led to a truncated season.
But Mark Tatum, of the American-based NBA major basketball league, says Manchester is filling the UK breach as it hosts two high level USA versus Team GB games in the run up to the Olympics this summer.
"Due to the reduced schedule, we were unable to go for March in London this year, although we are already planning more regular season NBA games for the future," says the man tasked with selling the NBA league and the national USA basketball team to fans and sponsors around the world.
"But although there is not a regular NBA season game, there will be a Team USA exhibition series against Team GB."
Talent showcase
There will be both men's and women's games to be held in Manchester in July, with "the best players in the world taking part", Mr Tatum says.
"The NBA wants to grow the sport of basketball around the world - that is always at the forefront of our thinking."
"Our players will be in London for close to a month around the Olympics, so it was important to extend outside of London, and show our major talent to people outside of there - in a major city such as Manchester.
"Games like this as well as clinics and regular NBA league games can only help grow the sport in different countries."
After initial training in Las Vegas and Washington, Mr Tatum says the US team will then find it "very useful" to have the visit to the north-west of England.
"It is competitive and helps us to prepare for London 2012," says Mr Tatum.
And, turning to top flight team basketball, he maintains that, despite the delayed start to the current NBA season because of the player lock-out, the fan and sponsor support has not only remained solid, but actually grown.
"By any metric you look at, the fans have supported us in droves. It is certainly one of the best seasons we have had," he says.
"We have had high attendance capacity at games, increased visits to the nbastore.com and TV viewing and social media numbers are up."
Renewed sponsorship
On the sponsor, or partner side as Mr Tatum prefers to refer to it, there were five deals.
Anheuser-Busch, the makers of Budweiser beer, renewed and extended its deal to include China for the first time.
And a new deal with Gatorade saw the sports drink maker also move into new international territories of the UK, Italy and Brazil. AutoTrader also renewed its sponsorship.
Meanwhile, NBA new deals were signed with Sprint Nextel telecoms and sportswear manufacturer Under Armour.
"We work with our partners about how to get the best use out of their association with the NBA," he says.
"It could be with regard to TV ads, social media and digital media. Sometimes a partner brings an idea to us, and we may suggest a tweaking.
"The process is very collaborative. The excitement around the game is a great way to launch new products, initiatives and ideas."
He says that, at present, 10 NBA partners are running with a basketball-related promotional thread, including Kia cars, Adidas, Spalding and Sprint.
The German sports kit maker Adidas is in the enviable position of making playing uniforms and apparel for all NBA teams.
"But at the same time Adidas, Nike and Under Armour can use their athletes to promote their footwear," he says.
"Everyone gets along in the available space, by being associated with the NBA."
'Great story'
If the player lock-out was the initial downside to the start of the season, it has since been eclipsed by the emergence of Taiwanese-American star Jeremy Lin at the New York Knicks.
"Jeremy Lin has had a tremendous impact," says Mr Tatum.
"We have found that fans all over the world love him. He has just taken the world by storm, not just in Asia and the USA.
"It is a great story, with an element of improbability; this kid from Harvard - not a traditional powerhouse - who gets cut from two teams, but still goes on to succeed. That is something people can relate to."
And he has helped to boost further the game in China, where the NBA has launched a new Jeremy Lin merchandise range.
The country remains the biggest national market for the NBA, with 300 million people there playing basketball, and the number continues to grow.
Meanwhile, those in China who follow the NBA via TV and online continue to grow by about 30% a year.
More sponsorship
Other areas that Mr Tatum is looking at to expand the NBA's reach and potential revenues are shirt sponsorship - NBA teams do not carry sponsor logos on their playing jerseys - and the continued expansion of social media.
"Having sponsor logos has been suggested for our league teams as the best way to approach the [sponsor] market," he says.
"Key stakeholders would need to be consulted and would have to be involved in something like this if it were to go ahead.
"The question is whether there will be an incremental gain, or rather be about money moving merely from one platform to another."
At present, five teams in the Women's NBA league have shirt sponsorship and three teams in the NBA Development league also have shirt sponsors.
"We continue to watch these leagues to see how it is working," Mr Tatum says.
"We sell games in many countries so we recognise that shirt sponsorship is accepted outside the US."
Meanwhile, the NBA currently boasts 240 million "likes" and "followers" across Twitter and Facebook, an aggregate total made up of both league players and teams.
"We have always embraced the latest technology to enhance the experience for our fans. We give them what they want, when they want it, where they want it," he says.
"Also our marketing partners are working with us to work with social media and digital media aspects that they have. We have spent money understanding what our fans want."
He says as business marketing budgets come under pressure due to continued economic uncertainty, firms have to look at avenues that reach customers and deliver a great deal for the investment.
"We have a young, multi-cultural, tech-savvy audience," says Mr Tatum.
"We know the investment people make in the NBA will be a good one.
"It is a wonderful time to be a basketball fan, particularly leading into the run up to the Olympic Games in London this summer."