Elpida delisted after filing for bankruptcy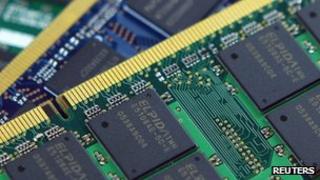 Japan's Elpida Memory, a major computer chip maker, has been delisted from the Tokyo Stock Exchange.
The company filed for bankruptcy protection in February, unable to repay debts of 448bn yen ($5.6bn; £3.5bn).
It has struggled with falling chip prices, increased competition and the strength of the Japanese yen, which erodes earnings from overseas.
Its chips are used in mobile phones and personal electronic devices.
Elpida, which specialises in making dynamic random-access memory (DRAM) chips, was valued at more than $1.1bn before it filed for bankruptcy protection on 27 February.
Its share price on that day was 334 yen.
On Tuesday Elpida shares closed at 1 yen, ahead of the delisting.
The company, which went public in November 2004, said it has made losses in the past five quarters.