Financial complaints up by 21%, says FSA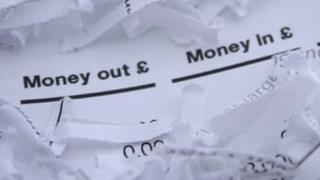 Financial institutions received more than 12,000 complaints a day in the second half of 2011, driven by worries over payment protection insurance.
The number of complaints rose by 21% compared with the previous six months, the Financial Services Authority (FSA) said.
Within this, complaints about loan insurance rose by 85% to just under a million, the data shows.
Gripes about savings and current accounts fell over the same period.
Mis-selling
Payment protection insurance (PPI) is supposed to cover borrowers' loan repayments if they fall ill, die, or lose their jobs.
But mis-selling of the insurance led to new rules on how cases should be dealt with, and also created an extra compensation bill running into billions of pounds for the banks.
Complaints flooded into the banks last year, prompting the FSA to allow them more time to deal with historic cases than the usual eight week limit.
Four out of five complaints are coming via claims management companies, advertising on television and in the newspapers.
The number of cases found in favour of the consumer rose in the second half of the year, with £2.1bn paid out to customers who were mis-sold PPI.
The FSAdatabrings together all the complaints data released by financial institutions.
'Right track'
Barclays recorded the highest number of complaints per brand, but Lloyds Banking Group had the largest number per banking group.
Some 281,000 complaints were made to Barclays in the last half of 2011, up from 251,500 from January to June.
"Complaints are still higher than our customers should expect, but we are on the right track in bringing them down," said Antony Jenkins, chief executive of Barclays Retail and Business Banking.
Lloyds Banking Group said that "getting customer service right is vital" and said banking complaints were going down, with a large volume of complaints relating to PPI.
But Richard Lloyd, chief executive of the consumer group Which?, said: "The complaints data is evidence that some banks are still failing to treat their customers fairly when things go wrong.
"The increase in PPI complaints further demonstrates just how widespread PPI mis-selling was. We now need to see the banks take action and deal with these complaints quickly and efficiently and the FSA must take action against anyone dragging their feet settling complaints."