Uefa aims to make international football a TV turn-on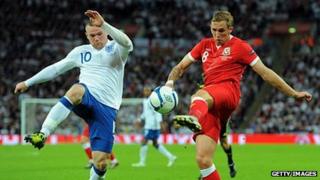 European football bosses have come up with a new business plan to sell their TV rights to international games, as they fight to stop fans reaching for the off button.
From 2014, Uefa will centralise the media rights for the European qualifiers of the World Cup and the European Championships.
It comes as club football, including Uefa's own highly successful Champions League tournament, has grown in ascendancy over the international game.
Broadcasters will now approach Uefa to buy packages of international games, rather than having to run around contacting individual national football federations.
"It is about promoting national team football and about giving more financial stability to national associations," Gianni Infantino, secretary general of Uefa, told those at the Soccerex football finance forum in Manchester.
"The Uefa national associations… mandated Uefa to implement the centralised sale of commercial rights for national team qualification matches.
"We will provide one point of sale for all matches. There will be lots of benefits - including more revenues for European football associations."
Uefa has previously said that it believes it can increase the net revenue from media rights sales by 67%.
Week of football
So far, 52 out of the 53 European national associations have signed up to the plans, with only England's Football Association still to iron out final details.
The FA signed an initial mandate a year ago but an agreement still has to be concluded, Mr Infantino revealed, jokingly putting the delay down to Uefa's lack of precise expertise "in the English language".
The calendar for international qualifiers will also be changed, with double-header matches staggered across a period from Thursdays to Tuesdays in what Uefa is dubbing A Week Of Football.
"We are creating value for broadcasters, to cover football across a whole week of football, and at a time when there is no other football being played," said Mr Infantino.
Various broadcasting packages will be on offer, with a combination of live matches, delayed broadcast matches and highlights available.
The new structure will also take into account free-to-air issues in those countries where legal reasons mean that national team matches have to be shown for free.
'Great brand'
The makeover will start with the qualification matches for the 2016 European Championship, and the tender process for the new way of selling the match rights is set to begin in the next week or two.
"We want to create a great brand for national team football, to take it up to a different level where it belongs," said Mr Infantino.
"National team games need a boost, which is why we are launching the project."
Both broadcasters and television rights agencies will be invited to bid for packages of games.
Other commercial rights that Uefa intends centralising include perimeter board advertising - whereby national football associations can take all, none, or some of Uefa's sponsors as pitchside advertising during their games.
Major football federations such as England and Germany may want to keep their own sponsor boards in position, but smaller federations such as San Marino or Luxembourg may want to feature Uefa's sponsors.
Earnings concern
Discussions are also under way with sports manufacturers to come up with one uniform Uefa ball for use during international qualification matches, as is the case with the Champions League ball.
The biggest national federations in Europe - including England, Italy, France, and Germany - had initially been wary about signing up to the new concord, fearing it might see their media earnings diminish.
But Denni Strich, marketing director of Deutscher Fussball Bund (DFB), is enthusiastic about the arrangement.
"I hope it is a great deal for all federations," said Mr Strich. "It is definitely time we started this project.
"In Germany the national team is a strong brand, but I think we [national federations] can all develop together, with Uefa, a really strong brand for fans, federations and partners. It is a great thing."
Devil in the detail
Niall Sloane, director of sport at ITV, said the coming together as one entity would make life easier for broadcasters.
He said the different packages of games would be of interest to ITV, with those featuring lesser playing nations perhaps being shown on digital television.
But he said he was not sure whether the cost to broadcasters would be cheaper than at present.
"The detail will be interesting," he added. "There might be a package of non-UK teams playing that we can put on ITV4."
The new television rights structure is a victory for Uefa president Michel Platini, who, upon his re-election to the post in 2011, said such a proposed model would protect and develop national team football.
"The big federations have realised that all together they are stronger than just a combination of 53 federations being brought together," said Mr Infantino.