Hutchison Whampoa profits more than double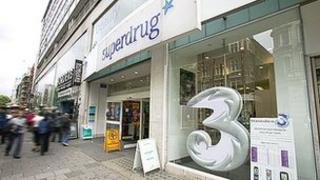 Hutchison Whampoa, owned by billionaire Li Ka-shing, has seen its annual profits more than double after spinning off its container port business.
The Hong Kong conglomerate said it made a profit of 56bn Hong Kong dollars ($7.2bn; £4.5bn) in 2011, compared with HK$20.2bn a year earlier.
Hutchison Port Holdings Trust listed in Singapore in March 2011, leading to a gain of HK$44.3bn, the company said.
Hutchison's businesses span the globe, from telecommunications to energy.
It owns third-generation mobile phone network 3 Group, chemist chains Watsons and Superdrug and several UK water and gas distributors.
"Our core businesses and operations, which are spread over 53 countries, demonstrated resilience," said Mr Li, the company's chairman.
"A measure of uncertainty is expected to remain in 2012," he added.
Excluding one-off gains such as the port initial public offering, Hutchison said that profits grew 36% to HK$22.6bn.
Its 3G phone business, which had been a drag on the company's earnings for most of the last decade, turned a profit for a second year.
Mr Li's business empire had humble beginnings.
Born in 1928, he built up a plastic flower manufacturing business before investing in Hong Kong property in the 1960s when prices were low.
Nicknamed Superman for his investment savvy, one of Mr Li's best-known deals was when he sold the Orange mobile phone business to German firm Mannesmann in 1999 at the height of the dotcom boom, making a profit of US$15bn.