Isa deadline looming for savers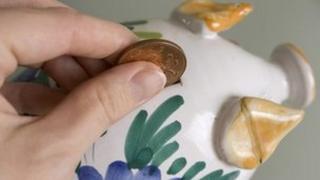 Savers should not wait until the last minute to use their tax-free Isa annual allowance for the year, an ombudsman has said.
Currently savers can put up to £10,680 into an Individual Savings Account (Isa), half of which can be in cash.
The deadline for the current year's allowance is 5 April.
But Natalie Ceeney, the financial services ombudsman, said that leaving the paperwork to the deadline could lead to disputes with providers.
"At this time of year, the ombudsman service sees a big increase in complaints about Isas where people have missed deadlines," the ombudsman said.
"So do not leave it till the very last minute before getting your application in."
Decisions
The ombudsman makes rulings on disputes that cannot be resolved between a customer and a financial institution. She said she sometimes ordered banks to pay compensation for errors they made when consumers attempted to top up their Isa allowance.
In one case, a man unexpectedly inherited £10,000 from a distant cousin and decided to put some of it into a cash Isa.
The bank failed to tell him that the transfer would take three days and the deadline was missed. The ombudsman ordered the bank to pay the difference in interest between the Isa and an ordinary savings account, and to give him £100 for the inconvenience caused.
However, some cases were found in the banks' favour when customers simply missed the deadline.
On 6 April 2012, the Isa allowance will rise to £11,280 for the new financial year.
Up to £5,640 of this can be saved in cash with one Isa provider. The remainder can be invested in stocks and shares with either the same or a different Isa provider.