Allied Irish Banks sees loss after bad loan provisions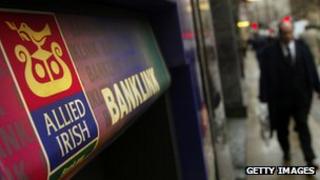 Allied Irish Banks has reported a loss of 5.1bn euros ($6.8bn; £4.3bn) for 2011, after making provisions for bad loans totalling 7.9bn euros.
However, the loss was narrower than the 12.1bn-euro loss it made in 2010.
The mortgage lender, which was rescued by the Irish government in 2011, said it was also hit by the weakness of the Irish economy last year when government and consumer spending both fell.
The firm said it expected to return to profit in 2014.
In the company's annual report,chief executive David Duffy said: "The Irish economy has remained weak and consumer and government spending continued to decline in 2011.
"Credit growth was limited and market conditions have not improved.
"These challenges have led to an increase in our provisions as consumers struggle to fund their commitments and businesses, large and small, limit their borrowings."