German retail sales fall 1.1% in February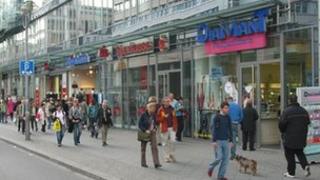 Retail sales in Germany unexpectedly fell in February, denting hopes that consumer spending will support the economy in the first quarter.
Sales in Europe's largest economy fell 1.1% compared with the month before, the Federal Statistics Office said.
But January's figure was revised up from a drop of 1.6% to show a smaller fall of 1.2%.
Germany's economy shrank 0.2% in the final three months of 2011, but growth is expected to pick up this year.
Leap year
Newedge Strategy analyst Annalisa Piazza said the weaker-than-expected retail sales number in February "partially reflects the exceptionally adverse weather conditions, i.e. heavy snowfall in the first part of the month".
On an annual basis, February sales were up 1.7%, helped by the extra day in February 2012.
The data is notoriously volatile, however, and was not in line with forecasts. Economists had expected sales to rise 1.2% on the month and 0.1% on the year.
January's year-on year figure was also revised up from a rise of 1.6% to show a gain of 1.7%.
Figures released on Thursday indicated that the unemployment rate fell to another post-reunification low of 6.7% in March.
"The fall in unemployment still does not seem to have had a sustainable impact on purchase behaviour, which is astonishing given that all the conditions are good, with interest rates rock bottom," said Christian Schulz at Berenberg Bank.
Earlier this week, a survey showed that business confidence in Germany rose for the fifth month in a row.