Tips for recycling mobile phones for money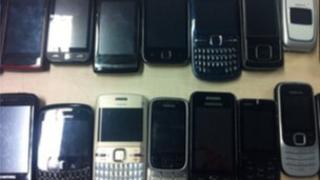 What do you with old phones and gadgets once they are finished with? Stick them in a drawer to gather dust or try to make some cash out of them?
The BBC spoke to a group of workers at the e-Office in London's Soho who are pondering that question.
Workers like Jonny Byrne. He is hoping to upgrade to the latest iPhone soon, and wants to know how much he will get for his older model.
Keir McConomy from Sellmymobile.com, a website that compares the range of prices you can get for your old phone, thinks Mr Byrne could get anything from £75 to £115, depending on which company he picks.
That is because mobile phones can be sold for recycling and a number of businesses have popped up that help consumers to do so.
Even though these companies call themselves "phone recyclers", only a small percentage of phones are actually broken down into parts.
Until smartphones became so popular, most were sent on to be resold in Africa. Now though, people in the UK and Europe have started buying them second-hand too.
Safety
The amount that can be made all depends on which model phone is being sold, but the more expensive a phone, the more prices can vary. It can make more than a £100 difference a time.
Nadezha Robinson is tempted to sell her phone too, but is worried about security.
"I use my phone for social networking, online banking and buying music - is it safe to send it off like this?" she asks Mr McConomy.
He says it is extremely important to delete data from the mobile.
"All phones have a reset button to restore factory settings. If you press that before you post it off, it will delete all your old data," he says.
Colleague Emma Gosling is listening to all this. She tried to sell her phone in the past, but it did not go well.
"It is not something I would think about doing again. When we actually got the quote online it was for £110. But it went missing in the post, so we never got the money."
Mr McConomy said anyone selling their phone needs to be aware of the potential value of the phone when posting it to a recycling company.
"Although a lot of buyers send out Freepost bags, that is only really suitable for lower value phones," he says.
"With a higher value phone I would definitely advise sending it by Royal Mail Special Delivery. It costs just over £5, but insures you up to £500. And that way, you can track it to make sure it gets to the company."
Customer service
Intern Tova Welltol has a spare phone she could sell, but she has some concerns too. She wants to know how she can be sure she will get a fair price.
One concern is that she might get a good quote online, but that once she has sent it off, the company could say it is not worth as much, and offer her a lower price.
Mr McConomy says this is another benefit of using price comparison sites.
"Comparison sites usually have a star rating system so you can see which companies have the highest customer satisfaction levels," he says.
"Also, before you post your phone off take photos so you have got evidence of the condition it is in."
Gadgets
Olly Tagg is a director at Fonebank.com, one of the biggest and longest established phone-recycling companies. He says consumers buy about 15 million new phones every year, and sell six million old ones to businesses like his.
The average price the company pays for old phones is about £45. But it can be a lot more, or less.
"The least we pay is £1, but smartphones these days are much more sophisticated, so the most we pay is about £400 for them," he said.
He says the market is changing too. "It is not just mobiles, we take all sorts of other gadgets as well. This month we have taken back 80 iPads. This time next year, we would anticipate that being about 2,000."
Experts say that whether you are buying or selling, it is worth remembering there are other options too. Consumers could find better prices on online auction sites.