Understanding why 'Spain has no choice'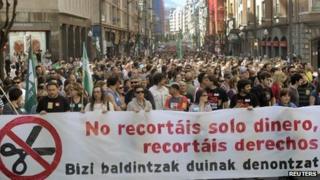 Everybody living in Spain will be affected by the new budget.
The price of electricity will increase by 7% and gas by 5%, meaning the cost of living will go up, in a country where many people are out of work.
Government departments are facing cuts of 17% to their budgets and it's likely even Spain's much-loved public health and education systems will be affected.
The reforms have attracted significant opposition on the streets and there was some isolated violence in Barcelona. Something we haven't really seen much of in a country with generally a culture of peaceful protest.
So why is the relatively new centre-right government of Mariano Rajoy committed to such heavy - and potentially very unpopular austerity - for the Spanish people?
The deficit saga
Gayle Allard, a professor of managerial economics from Spain's IE Business School, has this analogy.
"You have the Greek model, or the Irish model," she said. "You can either go kicking or screaming, or you can bite the bullet, like people have done in Ireland."
To understand why Spain's prime minister has announced what he described as a "very austere" budget, you have to look back to the chronology of Spain's public finances since the general elections at the end of last year.
When Spain's Popular Party swept the polls in December, it was handed a clear mandate to reform. And it immediately announced a programme of tax increases and spending cuts.
The aim was to reduce Spain's budget deficit in line with European Union targets so that Spain could reduce the rates of interest at which it was borrowing money, at a time when those rates were creeping dangerously high.
However, the government then told the world that the country's public finances were worse than it had expected.
It blamed the previous Socialist administration and said that the budget deficit target of 4.4% of gross domestic product (GDP) for this year was unrealistic, because the actual budget deficit for 2011 was 8.5% - rather than 6% of GDP as it said it had been lead to believe.
Pressure from Brussels
However, the story of Spain's increasingly austere targets continues.
Because when Madrid told Brussels it would reduce its deficit this year by 5.8% (rather than 4.4%) of GDP, officials in Brussels told Madrid they had to cut more.
And that's why we've ended up with the figure of 5.3%, and why the government now says it has to make savings of 27bn euros, as well as raising taxes including - controversially - income tax.
The role of European officials in Spain's financial crisis has led to a growing perception in the country that Brussels is calling the shots.
Candido Mendez, head of a Spanish union behind the nationwide strikes on Thursday, told the BBC that government should stick up to German Chancellor Angela Merkel and "defend Spain's sovereignty".
And David, a student who was out protesting in Madrid, called Spain a "market dictatorship" because he believes Madrid is doing what financial institutions and other European governments tell it to do.
He is angry about possible cuts to health and education.
Fears over more debt
The trouble on the streets of Barcelona on the day of the general strike did not represent the protests across the country, which were mainly peaceful.
Most here feel Spain is still a long way from needing a bailout from Brussels, but the fact that some are even talking about the concept will cause Madrid some concern.
On Friday, Spanish Economy Minister Luis de Guindos said the budget would mean that "Spain will stop being a problem for the European Union".
Ms Allard, the economist, believes Spain is ready to follow the Irish model.
"Some countries, like the UK can decide whether they do tough austerity or not. But Spain doesn't have that choice," she said.
Her fear, and that of many others including the government, is that if Spain doesn't rein in its spending and raise more revenue, the rates of interest on its debt will rise and could reach unsustainable levels.