Energy customers just want a call back, says Ofgem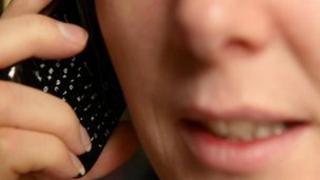 The majority of people who complained to their energy company were left dissatisfied with how it was handled, a regulator has said.
The biggest problem was companies failing to call customers back when agreed, Ofgem said.
However, the major energy firms have improved the way they reply to unhappy customers, thereportsaid.
Some companies have been fined heavily in the past for errors in handling complaints.
Satisfaction levels
Just over 3,000 customers who complained to their energy company in December were interviewed for the energy regulator's review.
About 40% of them said they were satisfied with the way their complaint was dealt with. This was an improvement from a 25% satisfaction level when a similar survey was conducted in 2010.
Scottish Power and SSE retained their position as companies with the highest satisfaction levels, with EDF Energy recording the lowest.
In March, Consumer Focus awarded EDF a zero rating out of five for its performance in the final three months of 2011. The watchdog said that EDF received 188 complaints per 100,000 customers.
However, last week it launchedpoliciesaimed at winning back the trust of customers, including plans to support vulnerable ones.
"We recognise that there are still improvements to be made. We have invested in, and continue to invest in, areas including billing system enhancements, additional training and online improvements," an EDF spokeswoman said.
"We are monitoring customer satisfaction levels closely and making this a top priority."
The Ofgem survey highlighted concerns from customers that companies were not dealing with complaints quickly enough, and that they failed to offer contact details if more discussion was needed.
Only one in six complaints were resolved after the first contact.
"Suppliers should review the survey results to see how they can make further improvements," Ofgem said.
"It is good news that customers are seeing a steady improvement in their overall satisfaction with the way complaints are handled," said Christine McGourty, director of Energy UK, which represents the energy companies..
"The research highlights some very positive aspects of customer service, including the simple language that companies use in their communications, and the their attitude and professionalism.
"In the competitive market, companies compete not just on price, but on the service they offer, and this should ensure that standards continue to rise across the energy sector."