UK manufacturing growth at 10-month high in March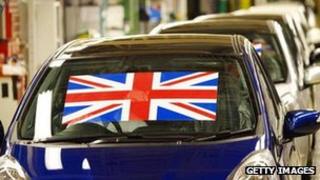 The UK's manufacturing sector grew at its fastest pace for 10 months in March, a survey has indicated.
The Markit/CIPS Purchasing Managers' Index (PMI) for manufacturing rose to 52.1 last month from 51.5 in February. A reading above 50 implies growth.
The data is an encouraging sign that the UK economy grew in the first three months of 2012 and avoided a recession.
But while there was a pick-up in new orders, March output was also boosted by clearing backlogs of existing work.
Markit saidthat conditions in the sector remained tough, with firms facing high oil and metal prices.
But it said that both domestic and overseas demand had improved.
"UK manufacturing has made a brighter than expected start to 2012, with PMI data pointing to output growth of around 0.3% in the first quarter," Rob Dobson, senior economist at Markit, said.
"This is obviously nowhere near a strong pace, but it is at least sufficient to prevent the sector from remaining a drag on broader GDP growth.
"Inflows of domestic and export orders also showed some improvement in March, but exporters are having to tap markets further afield as conditions in the eurozone remain lethargic."
'Break the cycle'
New orders rose at their quickest pace for a year in March, the data showed.
In another encouraging sign, the PMI for February was also revised upwards to 51.5 from a previously-stated 51.2.
Peter Dixon at Commerzbank said the figures indicated that the manufacturing sector performed reasonably strongly in the first quarter, "which interestingly is not being confirmed so far by the ONS's official numbers".
"We'll wait and see what the services figures look like later in the week, but I still suspect that these are consistent with a GDP growth rate of somewhere in the region of 0.2%," he said.
"It would therefore break the cycle that was represented by the sharp decline in Q4."
The service sector PMI figures will be released on Wednesday.
The manufacturing survey indicated output growth of 0.3% in the first quarter of 2012 after a 0.7% decline in the fourth quarter of last year.
That contributed to the overall economy contracting 0.3% in the last three months of 2011.