Angela Knight to step down from BBA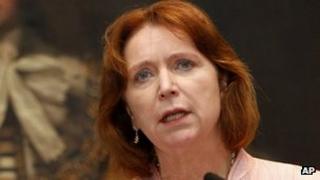 Angela Knight is to step down in the summer as head of the British Bankers' Association (BBA) after representing the industry during the most turbulent period in its history.
Mrs Knight joined the BBA in April 2007, just months before the run on Northern Rock and the credit crunch.
She also had to defend banks when some had to be rescued, and in the face of a public backlash against bankers' bonuses.
The BBA is yet to appoint a successor.
Mrs Knight, a former Conservative MP, said she left the BBA "in good health and heart".
"I have been at the British Bankers' Association at a time of extraordinary difficulty and during a crisis of a magnitude that few if any have seen before or expected," she said.
"The BBA has played a strong part throughout this challenging period and has helped the industry it represents with the significant changes to regulation and legislation required.
"The UK banking industry has already undergone radical restructuring to make it fit for the future and I am pleased to have played a part in this."