TCS wage suit gets class action approval in the US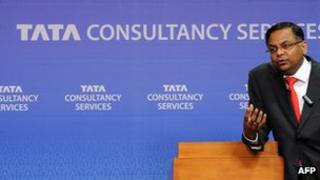 Tata Consultancy Services (TCS) is set to face a legal battle after a US court granted approval for a class action lawsuit over tax and wage disputes.
TCS has been accused of asking its non-US citizen employees to endorse and sign over their tax refunds to the firm.
It is also alleged to have taken unauthorized deductions from salaries.
TCS is India's largest software company and has thousands of employees based in the US.
A class action is a type of lawsuit in which one or several persons sue on behalf of a larger group of persons.
"More than ten thousand current and former Indian nationals working for Tata in America now may have their day in court," Kelly Dermody of Lieff Cabraser Heimann & Bernstein, the law firm representing the employees said.
Wage dispute
The employees has first filed the case against TCS on 14 February, 2006. In the case the employees have alleged the company did not pay them the amount that was promised to them for working in the US.
They said the firm had promised to pay them a gross US salary and a separate Indian salary during their stay in the country.
However,the lawyers claimthat "unauthorized deductions from the employees' wages prevented Tata's employees from receiving both their promised US and Indian salary".
Ms Dermondy alleged that practices followed by TCS broke the US laws.
"We look forward to demonstrating at trial that Tata breached the standard employment contract with these employees and violated California labour laws."
The class action suit will affect all non-US citizens who were employed by TCS in the US between 14 February, 2002 and 30 June, 2005 and who were deputed to the US after 1 January, 2002, according to the law firm.