Why James Murdoch is giving up BSkyB chair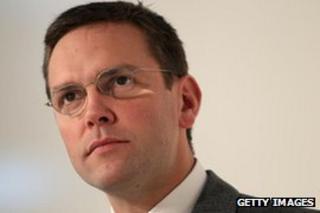 James Murdoch is giving up his last high-profile position in the UK, his chairmanship of British Sky Broadcasting.
I am told by his colleagues that he is jumping, rather than being pushed. The independent non-executives of BSkyB might at some stage have asked him to step down, but that hasn't happened yet.
He is going because he expected criticism would continue to be relentless of his failure to prevent or expose serious wrongdoing at News International, where he was chairman till recently and chief executive prior to that.
Mr Murdoch has denied any contemporaneous knowledge of phone hacking by News of the World reporters or alleged bribes by News International reporters of public officials.
He has also insisted that he was never involved in any cover up of the alleged criminal acts.
But it is profoundly embarrassing for him that it was not till the end of 2010 that - on his own account - he began to learn of the scale of malpractice at newspapers that were his responsibility.
He has been braced for serious criticism of his stewardship of News International by the Commons Culture Media and Sport select committee (see my note from a few weeks ago on how the MPs' verdict was central to James Murdoch's future at BSkyB).
However his resignation has not been prompted by any advance knowledge of the report into hacking being written by the committee.
The chairman of the committee, John Whittingdale, tells me that the committee has not finalised its conclusions or disclosed its thinking to Mr Murdoch.
There is also a review being conducted by Ofcom, the media regulator, of whether British Sky Broadcasting is fit and proper to continue holding a broadcasting licence.
Mr Murdoch's resignation as chairman perhaps reduces the perception that BSkyB's fitness to broadcast is somehow tainted by the alleged wrongdoing at News International.
But a colleague of his tells me that his resignation was not prompted by any belief on his part that this would significantly change Ofcom's judgement on BSkyB's licence.
Apart from anything else, News Corporation - the parent company of News International - continues to own 39% of BSkyB and Mr Murdoch will remain on BSkyB's board as a non-executive director.
His resignation may lower the stakes for him when he appears before the Leveson Inquiry into press standards for a full day of interrogation scheduled for later this month.
He is being replaced as chairman by Nick Ferguson, BSkyB's senior non-executive director.
James Murdoch became chief executive of News International in December 2007. Earlier this year, he quit as chairman of News International, to return to New York, where he is focussing on running News Corporation's global television interests, in his other position, deputy chief operating officer of News Corp.
UPDATE 15:16 BST
James Murdoch first told Nicholas Ferguson a couple of weeks ago that he was thinking of quitting as BSkyB chairman. At the time, Mr Ferguson was BSkyB's senior non-executive.
As I understand it, Mr Ferguson did not try to influence him one way or another.
Mr Murdoch's concern was that there would be contagion from the mess at News International to BSkyB if he remained in the chair.
Yesterday James Murdoch told an informal meeting of BSkyB's non-executives and the chief executive, Jeremy Darroch, that he was minded to quit.
The independent non-executives then discussed the issue and gave their approval.
So Mr Murdoch formally resigned at today's BSkyB board meeting.
Having spoken to his colleagues at BSkyB, they seem grateful that he chose to quit - because they feared that they might have to ask him to step down if the impending select committee report was very critical of him or if there were not a break in the recurring criticism of his stewardship of News International.
To slightly qualify what I wrote earlier, his resignation may have some influence on Ofcom's evaluation of whether BSkyB is fit and proper to hold a broadcasting licence - because Nick Ferguson is a genuinely independent chairman, not connected to the Murdoch's parent company News Corporation.