Carling brewer Molson Coors buys Staropramen owner StarBev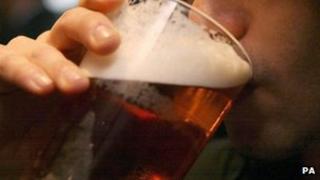 The US brewer that owns Carling lager has agreed to buy Eastern European rival StarBev for 2.65bn euros ($3.5bn; £2.2bn).
StarBev owns Staropramen and operates nine breweries in central and Eastern Europe.
US firm Molson Coors said: "The central and Eastern European beer market is attractive, with strong historical trends and upside potential."
The deal is expected to close by June,Molson Coors said.
StarBev brews 133 million hectolitres annually and holds a top three market share position in each of its markets - the Czech Republic, Serbia, Croatia, Romania, Bulgaria, Hungary and Montenegro.
Some of the beers the firm owns include local favourites Borsodi, Kamenitza, Bergenbier, Ozusko, Jelen and Niksicko.
"Staropramen, StarBev's international flagship brand, will also enhance our portfolio in some of our current and planned markets," said Molson president Peter Swinburn.
StarBev, headquartered in Amsterdam and Prague, is currently owned by private equity fund CVC Capital and StarBev's management.