US Federal Reserve stays concerned over growth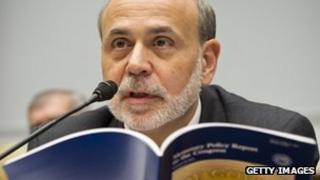 The US central bank is concerned that the gains in employment recently will dissipate if growth does not pick up.
Some at the Federal Reserve "perceived a non-negligible risk that improvements in employment could diminish as the year progressed," saidthe minutes of the March meeting.
In March, the Fed decided again to keep interest rates at record lows until at least late 2014.
The US unemployment rate is down to 8.3%, the lowest for three years.
Employment has been rising for the past six months, but the jobless rate has been stuck above 8% since early 2009.
The number of new jobs being created has been consistently above 200,000 in each of the past three months, fuelling hopes that the US recovery is gathering pace.
At the March meeting, the Fed's staff revised the central bank's near-term forecast for real gross domestic product (GDP) growth upwards slightly.
"Labour market conditions had continued to improve and unemployment had declined in recent months," the Fed said.
"But almost all members saw the unemployment rate as still elevated relative to levels that they viewed as consistent with the committee's mandate over the longer run."