China eyes freer financial markets to boost yuan role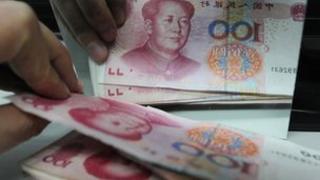 China, the world's second-largest economy, is looking to increase investment and competition in its financial and banking sectors.
On Tuesday, it almost tripled the amount that international fund managers can invest in China to $80bn (£50bn).
At the same time, Premier Wen Jiabao told China National Radio that the monopoly of state-owned banks needed to be broken.
The shift may boost growth and create a more international Chinese currency.
Analysts have long said that opening up its financial markets was key to Beijing's efforts of pushing the yuan as an alternative to the US dollar as a global reserve currency.
The Qualified Foreign Institutional Investor (QFII) scheme is one of the main channels used by foreign firms to invest in Chinese financial markets.
The China Securities Regulatory Commission said raising the quota of the scheme was a step towards opening up the sector.
"The QFII programme enhances our experience of monitoring and regulating cross-board investment and capital flows," it said in a statement.
"It is a positive experiment to further open up the market and achieve the yuan convertibility under the capital account."
'Far too easily'
In separate comments, Wen Jiabao hinted at allowing private investment in the country's banking sector.
The sector is dominated by the four big state-owned banks, including Industrial and Commercial Bank of China and Agricultural bank of China.
Mr Wen said that their monopoly was hurting businesses in the country, as they had few options to raise capital.
"Frankly, our banks make profits far too easily. Why? Because a small number of major banks occupy a monopoly position, meaning one can only go to them for loans and capital," he was quoted as saying by China National Radio.
"That's why right now, as we're dealing with the issue of getting private capital into the finance sector, essentially, that means we have to break up their monopoly."
The lack of easy availability of capital has often been cited as threat to growth of small and medium-sized businesses in China.
There have been fears that some of these businesses, seen as key to China's growth, may turn to unofficial sectors for capital, increasing their borrowing costs substantially.
However, other sources cast doubt on the possibility of a policy shift.
"Wen has one year left [in his term]," said an unnamed Chinese state banker quoted by the Reuters news agency.
"This is a task for the next generation of leaders. It cannot be accomplished within one year."
'Provide stability'
The change in the QFII programme comes amid volatility in the Chinese stock markets.
The Shanghai Stock Exchange Composite Index fell more than 20% last year. It has since seen a small revival, gaining almost 3% so far this year.
"The longer-term issue is about the structural health of China's stock markets," Stephen Joske of Australia Super, an institutional investor, told the BBC.
"The hope is that allowing more foreign institutional investors, who are likely to have a more longer-term approach, will provide stability to the markets."