Internet shopping: What makes the online consumer tick?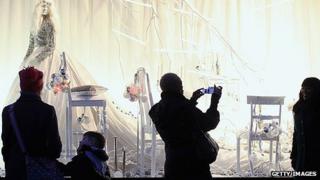 As part of the Technology of Business series, each week we ask an expert in their field for their thoughts.
James Murray is the digital insights manager for Experian Marketing Services. He works with Experian data to identify key trends in the online space and digital marketplace as well as writing regularly on a range of industries including retail, travel, automotive and finance.
One thing is for sure: the marketing profession is not getting easier.
Customers are becoming increasingly savvy, more discerning and harder to impress.
At the same time, companies around the world are tightening their control over advertising spend and demanding accountability and return on investment (ROI) for every marketing penny spent.
The age old dictum of "I know that half of my advertising budget is wasted; but I'm not sure which half" simply does not cut it in today's competitive business environment
In this new world, data is the common currency.
Data can be used at every stage of a marketing campaign from planning how it will run, to effective implementation, to measuring how successful the campaign was. Data provides the visibility marketers need to determine the real ROI of a campaign against any given number of metrics.
And data also shows us what really influences people online.
In March 2012, UK retail websites received an additional 8.5 million visits through social networks and forums compared to March 2011, representing a 2.3% increase year-on-year.
What does this mean? It means that today's savvy shoppers are taking their time when it comes to making a purchasing decision - often checking out online forums, blogs and social networks such as Facebook before they invest.
Today's retailers must understand that it's not just about their presence on their own website; it's about how they stack up in a whole realm of other online sources too.
Face off
The power of Google and other search engines is not to be underestimated: two in every five visits to online retailers now come from a search engine.
But as the other key drivers of traffic change, so must companies digital strategies if they are to harness the potential that online has to offer.
When we're talking about social media there are thousands of social networks out there that attract an array of niche audiences, but it is impossible to ignore the size and scale of Facebook.
Facebook is the world's largest social networking website, with over 845 million users worldwide, but yet many companies struggle to understand the ROI of Facebook investment.
The answer is relatively simple.
Recently, we conducted some anonymous research into the way that people engage with brands and social networks - specifically Facebook.
We looked at the top 100 online retailers, and benchmarked that against the number of fans those retailers had on their Facebook page.
The correlation showed that the more fans a retailer had on Facebook, the more visits the website received, to the extent that for every additional fan acquired a retailer could expect to see an additional 20 visits to their company website from Facebook over a 12-month period.
Of course, those visits don't all come from one fan. The viral nature of Facebook means that fans will recommend and share content with their network and ultimately help drive traffic to the retailer.
As Facebook has evolved, it has become more than a source of traffic for retail websites; in some cases it has also become the digital shop front.
Silver bullet?
While social commerce is still very much in its infancy, 4% of the UK's Facebook population have purchased a product from a brand's Facebook page, and this figure is set to rise.
Advertising is clearly not always about direct sales or conversions, and social media in particular offers companies a huge opportunity to expand their brand equity and profile, engage with consumers and influence their customers.
A recent poll conducted by Experian showed that 5% of consumers have actively sought feedback on a purchase made in store on Facebook or Twitter, while 24% of people would be positively influenced to buy a product after seeing an advert on Facebook.
These kinds of engagement metrics need to be acted on as they have the ability to grow into future sales.
Social media remains one of the fastest expanding industries online, and continues to grow as a key source of traffic for online retail.
Social media not only has the power to influence customers, it can also lead to direct conversions and provide a clear ROI for brands.
Crucially, it is important to understand that social media is not a silver bullet.
Bringing together a blend of marketing channels both online and offline is the best way to ensure future success, whilst always remembering that at the heart of this success lies great data, and great online experiences for the brands that get it right.er.