New car sales rise 1.8% in March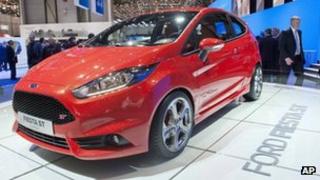 New car sales in the UK rose 1.8% year-on-year in March to 372,835, the Society of Motor Manufacturers and Traders (SMMT) has said.
March typically sees the most registrations, averaging 18% of the full year's volume, as the new plate is introduced in the month.
But this year's figure was ahead even of the SMMT's own forecast of 350,000.
It took total sales for the year so far to 563,556 - a 0.9% rise on the first three months of 2011.
March registrations were boosted by a 7.4% rise in private sales - one of the best monthly increases in the past two years, the SMMT said.
"The important March new car market performed above expectations," said SMMT chief executive Paul Everitt.
"Domestic demand for new cars is showing signs of recovery, with private buyers increasingly returning to take advantage of a wide range of excellent products and, this month, the new 12-plate."
The Ford Fiesta was the best seller in March, regaining the top spot from the Ford Focus, which slipped to third behind the Vauxhall Corsa.