France's second-chance schools give hope to unemployed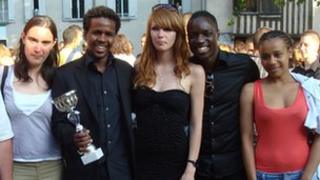 When he ran for the French presidency in 2007, Nicolas Sarkozy pledged to open more "second-chance schools" for young people without qualifications. Radio 4's In Business examines how these schools are helping fight French youth unemployment.
"I came back because I need to live," says 20-year-old Maureen, who has just started a 10-month course at the School of the Second Chance in the northern Paris suburb of Clichy.
"I can't find a job and I can't earn any money without qualifications today. I realise that two years after dropping out of school I can't wait any longer and that's why I'm here," she says.
She hopes that "L'Ecole de la deuxieme chance", which tailors teaching to the students' individual needs and sends them on placements to local firms, will put her on a path to employment.
The second-chance schools were originally an EU-wide project, set up by the former French prime minister Edith Cresson when she was an EU Commissioner.
Vicious circle
But it is in France where they have really taken off. There are currently about 100 of them across the country, helping about 12,000 students.
Last year the number of students attending second-chance schools in France rose by 42%.
Many of the pupils have difficult social and family backgrounds and all are either on benefits or receive payment to attend the 10-month course.
Edith Cresson, who now heads a foundation that supports the students, told the BBC they all have the same aim: "The motivation is that they have to find a job. They don't have the tools."
And with youth unemployment in France at 22%, it is a daunting task.
Denis Vignollet runs the school in Clichy. He says the job market has become tougher for his students.
"I think it's more difficult, but then their attitude towards work, it's always negative, from the news and everything that's going on. So we work on that a lot."
The schools are funded by the French state and from regional budgets, as well as by money from the EU and from local businesses.
Maureen is determined to succeed at the second-chance school.
She says most of her friends are unemployed, caught in a vicious circle, like her, having dropped out of school without qualifications:
"If you haven't got any qualifications, you can't get any experience, and if you haven't got any experience, companies won't hire you," she says.
Guillaume is 19 years old and has just started at the school in Clichy after he dropped out of his previous school and struggled to find a job.
"I realised that I needed some help. I knew what I didn't want to do, but I didn't really know how to do what I wanted," he says.
Guillaume is hoping to work as an audio-visual technician and is looking for some relevant work experience - and experience is what they offer at the Second Chance School in Clichy.
Individual needs
Teacher Olivia Fauquenot works with the students, individually tailoring the teaching to the skills each students needs, tied to the area in which they want to find a job or further training.
"We try to work with them on what they want to do," she says. "We have to adjust to their level. We never say 'no, you won't be a journalist or a computer developer'.
"We help them to be conscious of what skills they have and what progress they can make here."
Over a 10-month period the second-chance students will each do around eight three-week work placements in companies relevant to their career interest.
Nationally the schools have a very low drop-out rate, as by the time the students get to the second-chance schools, most want to succeed and find a job.
However, teacher Olivia Fauquenot says that when students arrive at the school in Clichy, she finds them lacking in self-confidence, as the conventional school system has not worked for them.
"When they quit school, most of the time it was after a bad experience and so we have to work to rebuild self-confidence," she explains.
Sixty per cent of the pupils at the school in Clichy have either found a job at the end of their 10-month course or have embarked on further training in their chosen field - compared with a 58% success rate across all French schools.
Many former second-chance students, who previously had few prospects, have gone on to work in the construction industry, in care homes and as assistants in schools - but it has taken hard work.
"I knew that it was going to be hard," admits current student Guillaume. "But that's why I'm here, because it's like a second chance. But it's also my last chance."
You can hear more about France's Second Chance Schools in In Business on BBC Radio 4 Thursday, 12 April at 20:30 BST and on Sunday 15 April at 21:30 BST. You can also download the podcast.