Sri Lanka's tea workers fear for their future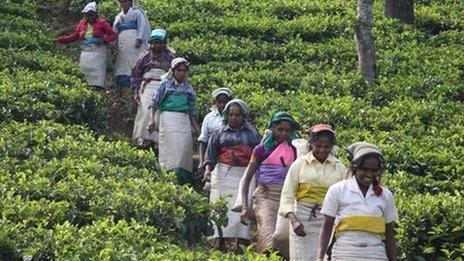 East of the town of Badulla is some of Sri Lanka's most dramatic scenery.
Forested hills rise vertically from valley floors filled with rows of pale green tea bushes.
Early each morning, hundreds of women add bright specks of colour to the landscape as they begin harvesting the leaves by hand.
But the job is gruelling and a new sense of gloom is starting to pervade Sri Lanka's tea industry.
Rising costs, falling prices and poor weather are now making it more expensive to produce tea than to sell it, with the effects being felt in every part of the production chain.
Tea harvesters have to work quickly to fill their baskets before their takings are weighed and added up at the end of the day.
If a person picks 18kg worth of tea in the day, they are paid 500 rupees (US$4; £2.50). Anything less than 18kg and the pay is halved.
Tea workers' wages were more than doubled a few months ago following union negotiations.
Despite the higher pay, harvesters say they are barely able to scrape by.
Most of the labourers belong to the community known as Tamils of Indian origin - people whose forefathers were brought from India by the British to work the estates.
The community is the poorest outside the former war zone.
One of the tea-pickers, 28-year-old Selvarani Karthikesan, takes me to her home - one in a row of workers' houses located in the middle of the plantation - a modest but fairly dilapidated dwelling.
Selvarani lives with her husband and four children, all aged under eight. They have no electricity or running water in the house and the only toilets are outside.
Her kitchen roof consists of sheets of corrugated iron weighed down with stones.
Her family is especially hard-hit by rising costs and on some days they don't get to eat a full meal.
The cost of kerosene - their essential fuel - was raised by 50% in February.
"It's very difficult now. Goods are very expensive," Selvarani tells me.
"My husband does odd jobs with no secure income, so we mainly depend on my salary."
"As soon as I get paid, all the shop-owners who've given me loans, come to my doorstep to take the money. Then there's nothing left to buy even shoes or socks," she adds.
It's not just the workers. Small and medium-scale plantation owners are also feeling the pinch.
On the other side of the highlands near the town of Matale lies the Ancoombra tea factory, a fine old building which has stood on the site for more than 100 years.
Its floors and staircases are still wooden and the walls are lined with bright, hand-painted signs.
Here, the tea is processed in barely 24 hours - the leaves are withered, fermented, dried, baked and sorted into different grades.
It all runs like clockwork.
But the Meezan Group, which owns this factory and three others, is now making a loss for the first time.
Meezan's managing director Ihitisham Meezan Mohideen has spent more than two decades running plantations and says it now costs more to produce tea than to sell it.
"The tea prices have come down very badly," Mohideen says.
"Unless the government gives us support, a lot of tea factories might get closed down."
Ceylon tea prices are also falling because of turmoil in Middle Eastern countries like Iran, Syria and Iraq.
After Russia, they are the biggest importers of tea but some are delaying their payments to the Sri Lankan exporting companies and that affects the producers.
Not only have prices been falling, but tea exports from Sri Lanka fell by a significant 19% in the year up to January.
Mohideen thinks the safest route is now to diversify.
He says many plantations are adding different crops like rubber trees to their plantations.
"We [also] have in this estate coffee, pepper, cloves, timber, so we have to have all type of crops, otherwise when market is low we'll have a lot of problems."
Rohan Fernando, a director at Aitken Spence and a seasoned tea expert, says it is crucial Sri Lanka finds new markets and ways of adding value to their tea exports.
India, China and the US are markets which have not yet been thoroughly tapped, he says, adding that value can be added by producing more tea bags and ready-to-drink teas like iced teas.
"We are stagnating at the moment," Rohan Fernando tells the BBC.
"I think it's a good time for producers, exporters and all the other stakeholders - trade unions and government - to get together and work out a way forward that will help us overcome some of these bottlenecks.''
Tea is the world's most popular drink. But relatively few of us stop to think about how it gets into our cup.
As life gets harder, many of Sri Lanka's plantation workers are hoping their children will choose a different field of work.
Plantation owners will continue to look for ways to cut costs.
In time that may mean more mechanised harvests, and when that happens, the face of the Sri Lankan hill country will change forever.