Tax system overhaul as real-time operation is tested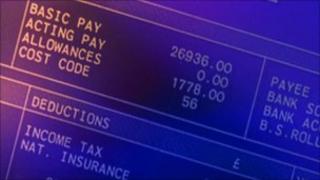 A pilot project has started that is set to herald a major change in the way tax bills are calculated.
Ten UK employers have started testing the collection of real time information (RTI) that will update details for tax calculations more frequently.
Employers will supply updated pay, tax and national insurance data about their staff to HM Revenue and Customs (HMRC) each month.
All employers will use the service by October 2013.
The change, which will be phased in, will mean HMRC will not have to wait until the end of each tax year to work out if a person has paid the right amount of tax or not.
Computer records
"[This] will ensure that the PAYE system meets the needs of the 21st century," said Treasury Minister David Gauke.
"It will improve the service to taxpayers by making it easier to ensure that people pay the right tax after a change of job."
The introduction of a new computer system for income tax and national insurance two years ago revealed that millions of tax records for the past few years had not been reconciled properly.
This has led to several waves of letters being sent to millions of taxpayers giving them a tax rebate for one or more past tax years, or asking them to pay extra tax because they had been under-taxed in the past.