Mothercare to close more stores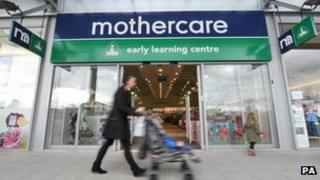 Struggling retailer Mothercare has announced plans to close more stores over the next three years.
In May last year, the company said it planned to reduce its total UK stores from 373 to 266 by March 2013.
It now says that that it will reduce its store base to 200 by March 2015.
The news came as the babywear retailer revealed a 6.2% drop in like-for-like sales in the UK in the year to the end of March. For the fourth quarter, UK like-for-like sales were down 8.2%.
The company said it had closed 62 stores in the UK in the past year and would close another 111 stores by March 2015.
The group, which also runs the Early Learning Centre, said the 200 profitable outlets it was focusing on were made up of 95 out-of-town stores and 105 High Street stores.
While the firm's UK arm has struggled as consumers cut back on spending, its international business has expanded. Mothercare said it would accelerate its international growth, with more store openings planned.
During the year, it opened 134 new stores overseas, taking its international portfolio to 1,028.
International sales rose 16% over the year and 18% in the fourth quarter.
New boss
Mothercare launched a structural and operational review of its business in November, and said the review and resulting strategy was nearing completion.
The new strategy for the next three years will be presented by new chief executive Simon Calver with the company's preliminary results on 24 May.
Mr Calver will join Mothercare next month, replacing Ben Gordon, who left the firm by mutual consent in November after the firm issued two profit warnings last year.
"Since November, a significant amount of progress has been made across the business," said chairman Alan Parker.
"We launched a structural and operational review, appointed a new CEO, closed a significant number of underperforming stores and commenced a consultation programme to streamline our head office function.
"Today we have announced the framework of our decisive three-year strategy to restore the UK business back to profit and strengthen our foundations for growth."
The store closures leave hundreds of jobs at risk.
The retailer's drive to cut costs also includes a 16% reduction in head office payroll costs, which equates to about 90 roles.
The group said it had secured a refinancing deal with its banks and would not pay a dividend until it saw the benefits from its new strategy, in order to fund the store reduction programme.