US trade deficit narrows in February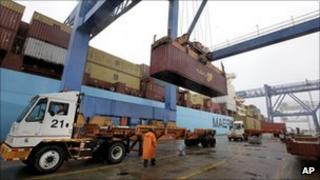 The US trade deficit narrowed in February after imports fell and exports hit a new record, figures show.
The US Commerce Department said the deficit shrank to $46bn (£29bn)in February, down from $52.5bn in January.
Exports rose by 0.1% to an all-time high of $181.2bn, led by services and capital goods exports.
Imports fell by 2.7% to $227.2bn, with imports from China down by 18.2%. Oil imports also fell, dropping to the lowest level since February 1997.
According to the report from the Commerce Department , Canada remains the biggest trade partner for the US. Goods and services worth $23.5bn were sent across the border, up 7.2% on January.
Despite Europe's economic slowdown, exports to EU nations rose to $22.5bn up 6.7% from January. Exports to the UK rose 14% to a record $5.3bn.
The automotive business is the biggest single exporting industry contributing $11.9bn to February's export total, down 6.4% from January.