UK producer prices rise 0.6% in March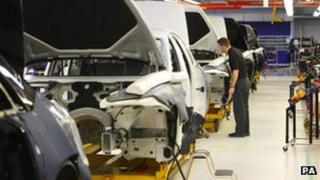 UK producer prices rose 0.6% in March from February, due in part to rises in the cost of petrol products, tobacco and alcohol, figures have shown.
On an annual basis, prices rose by 3.6%, the lowest rate for more than two years, the Office for National Statistics (ONS) said.
Annual producer price inflation has been slowing since September last year, when it rose by more than 6%.
Input prices rose by 1.9% month-on-month, and 5.8% year-on-year.
Separate figures showed output in the construction industry fell by 4.6% in February compared with a year earlier.
'Limited inflation'
Analysts said the rise in input prices was due to the high price of oil.
"The fact that input prices were up by 1.9% on the month tells you that the oil prices had a big impact last month, and I wouldn't be at all surprised if we see a little bit more pressure from that side over the course of the next few months," said Peter Dixon at Commerzbank.
"But we shouldn't extrapolate these trends too far out into the future. I think oil prices do appear to have stabilised and as a consequence the inflationary implications will hopefully be fairly limited."
The high oil price has led some commentators to speculate that overall inflation in the UK will not continue to fall as quickly over the summer as it has in recent months.
Inflation as measured by the Consumer Prices Index (CPI) currently stands at 3.4%, having fallen from 5.2% in September last year.
"Next week's consumer price index is not likely to fall. We think the CPI is going to stay at 3.4% and we see CPI holding at 3% for most of the summer," said David Page at Lloyds.
The Bank of England has forecast that inflation will fall this year back towards its target rate of 2%.