US consumer prices rise by 0.3% in March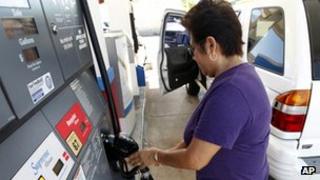 US consumer prices edged higher in March due mainly to increases in the cost of fuel, figures show.
The Consumer Price Index rose by 0.3% from February. Year-on-year, prices increased by 2.7%, slightly lower than the 2.9% rate recorded last month.
Taking out volatile food and energy prices, the so-called core CPI rose by 0.2% from February.
The US Federal Reserve has said it will probably hold interest rates between 0-0.25% until at least late 2014.
The lack of inflationary pressure means the Fed can focus on other areas of the economy, such as trying to reduce the unemployment rate, which currently stands at 8.2%.
"I think the Fed has made it blatantly clear that inflation is not their first concern," said Boris Schlossberg at GFT Forex.
"They're more interested in growth and robust labour numbers."
The modest rise in consumer prices in March was driven by a 1.7% increase in gasoline prices.
Outside of energy and used cars, which rose in price by 1.3%, most other products and services measured recorded only modest rises.
Food prices rose by 0.2%, while clothes increased by 0.5%. Electricity prices fell by 0.8%