Bank bonus clampdown threatened by European Commission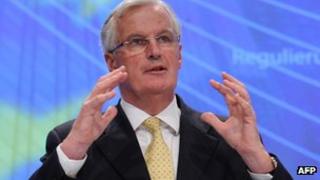 Europe's Internal Markets Commissioner, Michel Barnier, has said that "tougher action" is needed to curb bank bonuses.
He said that he was "seriously worried" by the proportion of pay awarded as bonuses in some countries, and said it encouraged excessive risk-taking.
It follows a report from the European Banking Authority that said existing bonus rules were not being implemented consistently by different EU countries.
Mr Barnier said parts of the report made for "startling reading".
Unnamed
"I cannot see how some of the ratios [of bonuses to base salaries] included in the report... can ever be considered justifiable or a sensible way to manage risk and long term interest," he said.
According to the EBA report, the average bonuses paid to bank executives across the EU as a whole was 122% of basic pay, and for other staff (mainly traders) it was 139%.
However, in one unnamed EU country, the averages were 220% and 313% respectively, and in one individual case a bonus of more than nine times basic pay was reported.
Mr Barnier said he found recent proposals for bonus restrictions by the European Parliament "both useful and interesting".
Those proposals have included a call for bonuses to be capped at 100% of basic pay.
The commissioner also criticised the tendency of some banks to apply existing bonus restrictions only to a small proportion of staff - another inconsistency between EU member states highlighted in the EBA report.
The pan-European rules, which came into force at the beginning of last year, require that the top executives and traders at a bank receive only about 20%-30% of their bonuses in upfront cash.
Half of their bonus should be paid in shares, and about 40%-60% of their total bonus should be staggered over three-to-five years, according to the rules.
Banks are also required to cap bonuses as a percentage of an employee's basic salary.
The new regulations have been criticised for focusing excessively on the ratio of bonuses to basic pay, instead of the actual value of bonuses.
Many banks have responded to the new rules by raising the level of basic pay awarded to staff.