JP Morgan reports rebound in business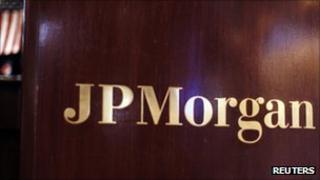 JP Morgan, the first major US bank to announce its results, has reported a rebound in revenues in the first three months of 2012.
Revenues jumped 24% versus a year ago, to $27.4bn (£17.2bn), although the Wall Street firm said profits fell slightly .
The result was driven by its investment bank, the lender said, as well as its mortgage-lending business, which saw a 33% rise in applications.
However, JP Morgan only made net income of $5.4bn for the quarter, down 4%.
'Stellar'
The firm's profits were weighed down by a decision to set aside a further $2.5bn to cover possible losses due to litigation, particularly in relation to mortgages it sold during the housing bubble.
Despite this, its earnings per share were actually fractionally higher than a year ago, because the firm has bought back some of its shares in the meantime.
Wall Street analysts said that the bank had beaten even their raised expectations, and not for the first time.
"Jamie Diamond has done it again," said Michael Holland, chairman of accountants Holland & Co, referring to JP Morgan's chief executive.
"I think there's no question that the numbers that he's produced here are stellar... he's created a very high bar for the rest of his competition."
For his part, Mr Dimon said that the bank continued to see improvements in the lending environment and lower losses on the loans it had made.
"However, with respect to our mortgage banking business, we expect to see elevated levels of costs and losses associated with mortgage-related issues for a while longer," he warned.
Analysts agreed that the bank's figures boded well for the broader market and the US economy.
"The revenue is what really impressed me," said money manager Joe Terril.
"It tells me there's more economic activity, maybe, than what we were previously thinking - more demand for credit, more demand for banking services, more business out there."
That picture was further confirmed by Wells Fargo, the fourth-biggest US bank, which also announced its own quarterly results shortly after JP Morgan.
The firm announced net income of $4.25bn, up 13% from a year ago, thanks in large part to a steady reduction in the share of its loans that have gone bad.
However, business at Wells Fargo - which does not own an investment bank - proved less dynamic than at its bigger rival, with total revenues up just 6% from a year earlier, reaching $21.6bn.
Mortgage fees
JP Morgan's investment banking unit - one of the world's biggest - turned in a profit of $1.7bn for the three month period.
That was down 29% from a year ago, but marked a sharp rebound from the last three months of 2011, when the unit's profits sank to just $726m, thanks in large part to the intensified eurozone crisis.
Meanwhile, the firm's retail banking business - which deals with ordinary customers - continued a strong return to profit, in large part thanks to a two-and-a-half-fold increase in fees earned by its mortgage lending business versus a year ago.
The results - which were released before the start of trading in New York - provide a first indication of how the banks have performed at the start of the year.
Markets initially reacted positively, with shares in rival Barclays jumping more than 1%.
However, both JP Morgan and Wells Fargo fell by over 3% in New York, along with most other banking stocks, as concerns over the eurozone re-emerged.