China's wider yuan band signals more reforms to come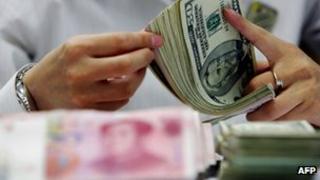 A deceleration in economic growth combined with rising confidence on the world stage have made it possible for China to implement the most significant change to the way it manages its currency, the yuan, in five years.
From Monday, the range in which the yuan is allowed to trade against the US dollar has been enlarged from 0.5% to 1.0% on either side of a daily rate set by the People's Bank of China, the central bank.
The last time the range was widened was in 2007.
Unlike market economies, in which the value of national currencies largely fluctuates depending on supply and demand, China tightly manages its currency.
Analysts believe the latest move, announced on Saturday by the central bank, is a further relaxation of control and a sign the Chinese government plans to press ahead with plans to fully liberalise its currency in as little as three years.
"This is another step on the way to full currency convertibility," says Callum Henderson, global head of foreign exchange research at Standard Chartered Bank.
"When could that happen? Well, we think it could be as early as 2015."
Full currency convertibility means investors inside and outside China would be free to trade their yuan for gold or other currencies, either to do business or to make financial investments.
Currently, the yuan, often colloquially called the renminbi (RMB), is not freely convertible for investment purposes.
One-way bet
Saturday's announcement , posted on the central bank's website in English, is believed to target an international audience ahead of meetings of global financial officials in Washington this week.
Wang Tao, head of China economic research at UBS, says the government is able to widen the trading band because there is less investor demand for the Chinese currency at present.
If demand is too high, then officials would feel more pressure to hold down the value of the yuan with a narrower band.
"Sure, senior Chinese officials have recently made statements that they consider the RMB close to its fair value," Ms Wang writes in a recent research report.
"What is really different this time, and what makes the statements more convincing to the market, is that the fundamentals have indeed changed."
Slowing growth
This year, China's economy is expected to grow at its slowest rate since 2002.
The country's current account surplus has fallen from 10.1% of gross domestic product in 2007 to just 2.7% in 2011, according to UBS.
A greater surplus, the result of a country exporting more than it imports, tends to translate into a stronger currency.
Since 2005, when the Chinese government scrapped the peg to the US dollar, the yuan has gained about 30% in value.
Until early 2012, the yuan's continued strength had been perceived as a one-way bet, leading to flows of cash into China by speculators betting on its rise.
This year, the yuan has weakened slightly against the dollar because of the slowdown in economic growth.
Party scandal
The weekend's announcement is also a sign that financial reformers in the Chinese government remain firmly in charge, after weeks of speculation about a possible power struggle at the top.
Qu Hongbin, co-head of Asian Economics Research at HSBC, says it is clear that Beijing believes now is the right time to push forward financial reforms.
"Get ready for more fireworks in capital account deregulation, RMB internationalisation, domestic bond markets and banking reforms," he writes in a note to clients.
Mr Qu is expecting a wave of financial reforms under Li Keqiang, who is expected to be named Premier Wen Jiabao's successor later this year.
In control
The latest move is also expected to allay fears that a scandal in the ruling Communist Party may derail the financial reform process promoted by Mr Wen.
Last week, Bo Xilai, one of China's most powerful politicians, was sacked from his position in the Communist Party.
His wife is being investigated for her possible involvement in the death of a British businessman.
The scandal led to rumours of a violent showdown between competing factions within the Communist Party, which controls the world's second-largest economy.
The reformers, led by Premier Wen, have been the driving force behind changing China's currency policy - and, increasingly, its monetary policy - to make it more market-driven.
The widening of the yuan's range is a clear message to critics that Mr Wen and his team mean business.