GDF Suez to take full ownership of International Power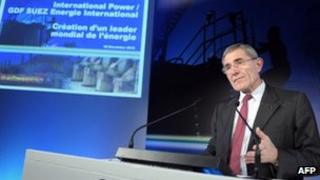 French utility firm GDF Suez has agreed a deal to take full ownership of UK-based energy company International Power (IP).
GDF has agreed to buy the 30% of IP it does not already own for 418p a share, valuing the company at about £22.8bn.
Earlier this month, directors at IP rejected a bid of 390p per share from GDF, saying it undervalued the firm.
IP owns 100 power stations, 11 of which are in the UK, including the coal-fired station at Rugeley in Staffordshire.
It also owns the oil-powered Indian Queens facility in Cornwall, the gas-fired station at Satend, near Hull, and two UK wind farms.
GDF chairman and chief executive Gerard Mestrallet said the move would allow the group to "fully capture growth in fast-growing markets".
Sir Neville Simms, chairman of the committee of independent directors at IP, said the new offer represented "a price that fairly reflects the company's position in international power generation markets and its inherent growth potential".
The independent directors will recommend that shareholders vote in favour of the deal at an extraordinary general meeting later this year.
GDF agreed to take a 70% stake in IP in August 2010, with the tie-up officially completed in February 2011.