Mortgage lending rose in February, CML says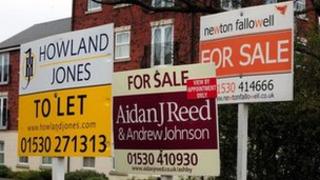 Mortgage lending picked up in February, according to the Council of Mortgage Lenders (CML).
The number of loans made for house purchase rose by 4% from January to 36,600, which was also 17% higher than in February last year.
The number of loans made to first-time buyers also rose, by 8% from January to 14,100, which was 18% up on last year.
However, the CML said the rise may be temporary, now that full stamp duty has been reimposed for first-time buyers.
CML director general Paul Smee said: "It is encouraging to see the continuing year-on-year improvement in house purchase lending.
"However it is not yet clear whether the end of the stamp duty concession will lead to a falling off in first-time buyer numbers and how much this may be offset by the government's NewBuy scheme, available to all buying a new build property."
'Fizzling out'
The government-sponsored NewBuy scheme, which has only just been launched, is aimed at helping 100,000 people in England buy newly-built homes with a mortgage, even if they cannot stump up more than a 5% deposit from their own funds.
The modest recent pick up in lending during February went hand-in-hand with a rise in completed sales that month, to their highest February level the past four years.
However, both lending and sales are still running at levels far below those seen before the onset of the banking crisis in 2008.
And other figures have suggested that activity may fall back again soon.
The most recent data on mortgage approvals - mortgages agreed with borrowers but not yet lent - have suggested that sales may dip soon.
Last month, the Bank of England said that approvals, which are a good indicator of near-term trends, fell by 15% in February to just under 49,000, the lowest monthly figure for eight months.
Lenders have also warned the Bank that they expect to ration their mortgage lending even more in the coming months, which is likely to restrict sales even more.
Mark Hollands, of mortgage broker London Money, said: "February's rise in first-time buyers is almost certainly due to the stamp duty holiday and will almost certainly fizzle out."
"Lending criteria are too tough, the deposits required too large."