Italy's gold exports to Switzerland soar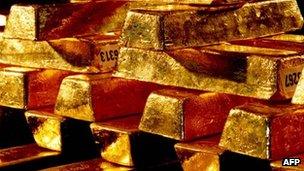 Italian exports of gold ingots to Switzerland have soared in recent months, data has shown.
Exports to Switzerland were 35.6% higher than in February 2011 "mainly because of sales of non-monetary raw gold", statistics agency Istat said.
This followed a 34.6% year-on-year rise in exports to Switzerland in January.
Overall trade data showed that Italy's non-seasonally trade deficit narrowed to 1.1bn euros ($1.4bn; £905m) in February from 4.3bn euros in January.
Experts say improvements in the trade deficit could be a sign that Prime Minister Mario Monti's economic reforms are starting to take effect.
Italy has been in recession since the second half of last year.
Italy exported 120 tonnes of gold to Switzerland in 2011, an increase of 65% on 2010.
Related Internet Links
The BBC is not responsible for the content of external sites.