US retail sales beat forecasts in March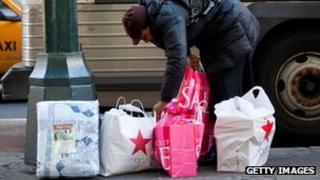 US retail sales grew at a faster-than-expected pace in March, raising hopes that the economy has not slowed as much as feared.
Commerce Department figures showed sales rose 0.8% last month, following February's revised increase of 1%.
Many retail sectors saw gains, and when sales of cars and petrol were excluded sales were up 0.7% on the month.
The retail sales measure is closely watched as consumer spending accounts for about 70% of the US economy.
"The headline number came in better-than-expected, but once you look at the details, it was pretty moderate," said Scott Brown, a Florida-based economist at Raymond James.
"This is not going to do much to first-quarter GDP forecasts."
In the final quarter of 2011, the US economy grew at an annualised pace of 3%.
For the first quarter of this year, economists are estimating a growth rate of between 2.5% and 3%.
The mild weather in March is credited with helping sales last month. Clothing sales were up 0.9% and sales at building equipment and garden equipment suppliers climbed 3%.
Electrical goods sales rose by 1% and furniture stores saw a 1.1% rise in trade.
Separately, another Commerce Department report suggested that US companies restocked at a steady pace in February.
Business stockpiles rose 0.6% to $1.58tn, the report said, as compared to 0.8% in January.
Larger stockpiles suggest that companies are anticipating more sales, leading to increased production.