Can Tesco grow again in Britain?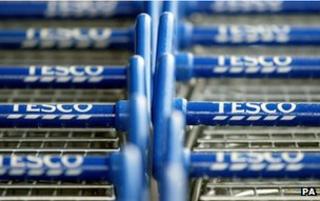 Tesco's results are a story in two parts. There remains momentum behind the group's overseas businesses and group sales in total rose more than 7% to a mind-boggling £72bn.
But the core of the group in the UK is in the doldrums, with trading profit falling 1% to £2.5bn.
There will be worse to come, because this year's profits will be reduced by the £600m of increased overheads to revitalise the UK stores, which includes the salaries of 8,000 new shop staff.
Which is why Tesco is agreeing with City analysts that in the current year, group profits will barely increase at all, even with further growth in Asia and Eastern Europe, and an expected reduction in losses at the group's controversial US business, Fresh and Easy.
Can the chief executive, Philip Clarke - who took over a year ago - restore momentum?
His analysis, he tells me, of what went wrong is that Tesco invested too little in its existing stores and even took money out of those shops, in part to finance the growth overseas. The implication is that with its 30% market share, Tesco took its British customers for granted.
So he is spending money to improve customer service, make the stores friendlier, and tailor the product range to what local people say they want (via the data they provide in their use of loyalty cards).
There will be fewer new stores - new selling space is being cut from 2.4m square feet to 1.5m square feet this year, a reduction of almost 40%.
Or to put another way, there been a bit of a shift away from getting bigger to getting better - which includes a so-called "refresh" of 430 existing stores, at a cost of £400m, to make them rather less clinical and intimidating.
Also, there will be a big expansion of what will be available over the internet, to 80,000 lines by Christmas, compared with 40,000 now. And Tesco is posing a direct challenge to Amazon, by increasing to 200,000 lines the products that other retailers can offer through Tesco's online marketplace.
Make no mistake: this is a turning point for Tesco and - given the group's market share and influence - arguably for the British consumer economy too.
Under its two previous leaders, Ian Maclaurin and Terry Leahy, Tesco went from challenger in the early 1990s to twice the size of its nearest UK competitor, by cutting prices and a whole series of innovations in product ranges and store design. For years it was not only the biggest store group by far in the UK but also the most admired and - arguably - the most feared.
Businesses have a lifecycle. There are very few examples of companies maintaining the kind of growth in mature industries that Tesco achieved. And once the growth ends, as Marks & Spencer and Sainsbury demonstrated in the 1990s, restoring it will certainly not be easy, and may prove impossible.