Intel beats analysts' first quarter forecasts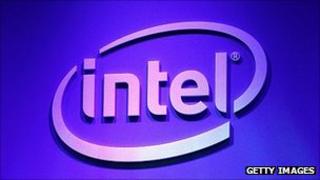 Intel's profits beat Wall Street forecasts again as it released its figures for the first quarter of 2012.
The world's largest chipmaker posted first-quarter revenue of $12.9bn (£8.4bn) and net earnings of $2.7bn.
"The first quarter was a solid start to what's expected to be another growth year for Intel," said Intel chief executive Paul Otellini.
He said that in the second financial quarter "we'll see the first Intel-based smartphones in the market".
Despite the positive outlook, Intel shares fell 2.81% in after-hours trade, having closed up 0.23% at $28.47 on the Nasdaq.
Mr Otellini also said that in the coming months Intel would ship products "based on 22nm tri-gate technology in high volume, and accelerate the ramp of our best server product ever, providing a tremendous foundation for growth in 2012 and beyond".
The firm envisages second-quarter revenue of $13.6bn plus or minus $500 million.
Analysts, who have been urging Intel to move more quickly into the tablet and mobile market, had predicted Intel would post $12.84bn in revenue for the first quarter and $13.45bn for the second quarter.