Yahoo sees profits rise 28% in first quarter to $286m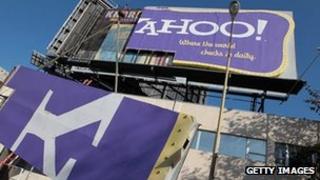 Struggling Internet firm Yahoo has seen its profit climb 28% in the first three months of the year.
The California-based firm reported net income of $286m on revenue of around $1.08bn in the quarter.
Yahoo has 700 million users, but has not kept up with Google in the search engine business, while its webmail service has been overtaken by social media such as Facebook and Twitter.
In after hours trade in New York its shares rose 2%, up to $15.32 a share.
Chief executive Scott Thompson, the former president of PayPal, took over the reins in January.
Job cuts
Despite the positive figures Clayton Moran, analyst at Benchmark CO said: "Yahoo continues to struggle in the Internet advertising space.
"Investors are anxious to hear how Thompson can turn this around and are largely sceptical he can do it.
"It's going to be hard for him to articulate a convincing strategy but investors are all ears now."
Earlier this month the firm said it planned to cut 2,000 staff, 14% of the workforce.
Yahoo expects its cost-cutting programme to save $375m (£236m) a year.
However, severance pay is expected to cost the company a one-off $125m-145m.
It is Yahoo's sixth round of redundancies in the last four years, with the latest announcement bringing the total to almost 6,000 jobs losses.
The company made a profit of $1bn last year, down from $1.2bn in 2010.
Since arriving at Yahoo, Mr Thompson has initiated a lawsuit against Facebook, accusing the rival firm of infringing 10 of Yahoo's patents.